Experience Natural Beaded Rows™ Hair Extensions & Get the Most Natural, Light-Weight & Comfortable Hair You've Ever Had!
You Are In and Out of My Salon in Less Than 3 Hours!
In less than 3 hours (if you have worn extensions before you know how great this sounds), my clients are in and out of the salon leaving transformed and feeling more beautiful than when they arrived.
There's No Glue or Tape Involved!
Since there is no glue or tape involved, the removal process is quick and simple and only takes about 5 minutes…
NBR™ Hair Extensions Do Less Damage, Hide Better, and Won't Slip Out!
The Natural Beaded Rows ™ Hair Extension Method is 100% unique, crafted from years of experience and diligent searching to create the absolute BEST Hair Extension Method on the market.
Not only will you have the most natural, light-weight, comfortable hair you've ever had…
…no one will believe you have extensions until you actually show them!
AND, they do less damage, hide better in the hair and they won't slip out!
SO, if you want to Experience Natural Beaded Rows™ Hair Extensions in Your Own Hair, and FINALLY Get the Natural, Full, Light-Weight & Comfortable Hair You've Always Dreamt of…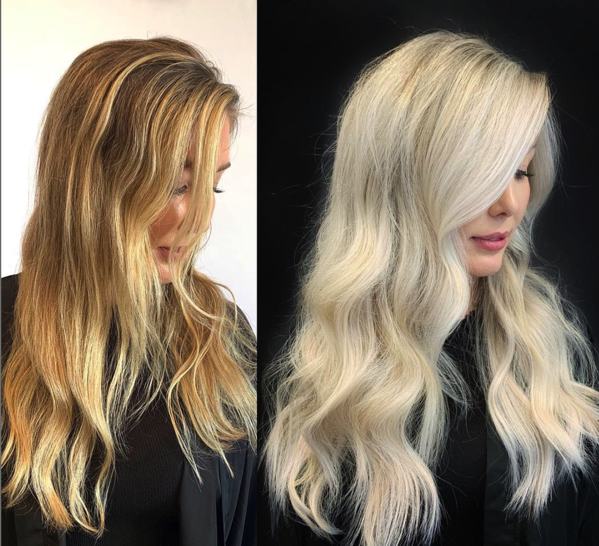 NBR EXTENSIONS BEFORE & AFTER
A price increase will occur on most services to offset the increase in my education, supplies and my assistant staff. Payment is due in full upon completion of services. No exceptions.
In the case of a no-show, or arriving 30+ minutes or cancels within the hour before your appointment, I will be unable to book your next appointment until the previous missed appointment is paid in full.